Baja California Desert Ecoregion (Mexico)
The Baja California Desert ecoregion is located within the Mexican states of Baja California Sur and Baja California Norte, on the western side of the Peninsular Ranges, in the northern and central Baja California Peninsula.
Baja California Desert
The Baja California Desert is located within the Mexican states of Baja California Sur and Baja California Norte. The ecoregion occupies approximately 77,700 sq km (30,000 sq mi) on the western portion of the northern and central Baja California Peninsula.
The Baja California Desert is bounded west by the Pacific Ocean and east by the Peninsular Ranges. The Sonoran Desert lies on the east slope of the Peninsular Ranges.
The elevation is variable, with mountain ranges of 1,000 - 1,500 m (3,000 - 5,000 ft), plains at a median elevation of 300 - 600 m (1,000 - 2,000 ft), and vast extensions of coastal dunes.
The climate in the ecoregion is dry and primarily subtropical, with the southernmost parts being tropical. Although rainfall is low, the isolated nature of the peninsula and its proximity to the Pacific Ocean provides humidity and serves to moderate the temperature.
Flora and Fauna
Flora primarily consists of xeric shrubs and approximately 500 recorded species of vascular plants. In addition, many species of cacti are present.
Thick-stemmed trees and shrubs growing on rocky volcanic soils cover the highest parts of the mountain ranges. Dominant species are common stork's-bill (Erodium cicutarium), Ambrosia camphorata, and Astragalus prorifer. The Boojum tree (Fouquieria columnaris) can also be found at up to 1,200 m (3,900 ft).
One of Mexico's most extensive and best-preserved deserts, the Baja California Desert is home to many endemic and endangered species. There are two federal protected areas, including El Vizcaíno, the largest protected area in Mexico.
The peninsula's isolation is mainly responsible for the high levels of endemism and diversity. Close to 500 species of plants, four amphibians, 43 reptiles, around 200 birds and over 50 mammals have adapted to difficult ecological conditions.
Endemic mammals include the San Quintín kangaroo rat (Dipodomys gravipes) and the Baja California rock squirrel (Spermophilus atricapillus).
Bird species include the rare golden eagle (Aguila chrysaetos), peregrine falcon (Falco peregrinus), crested caracara (Caracara plancus), osprey (Pandion haliaeutus), and burrowing owl (Athene cunicularia). In addition, millions of waterfowl overwinter in the Ojo de Liebre Lagoon along the Pacific coast.
Protection Status
Altogether, some 60% of the ecoregion is protected, though only 8% of the area outside protected areas is relatively intact. It contains Mexico's largest protected area, El Vizcaíno Biosphere Reserve.
Despite this ecoregion's largely intact and well-protected status, it has suffered from heavy cattle grazing, which has displaced mule deer and bighorn sheep, and unregulated hunting, reducing puma populations.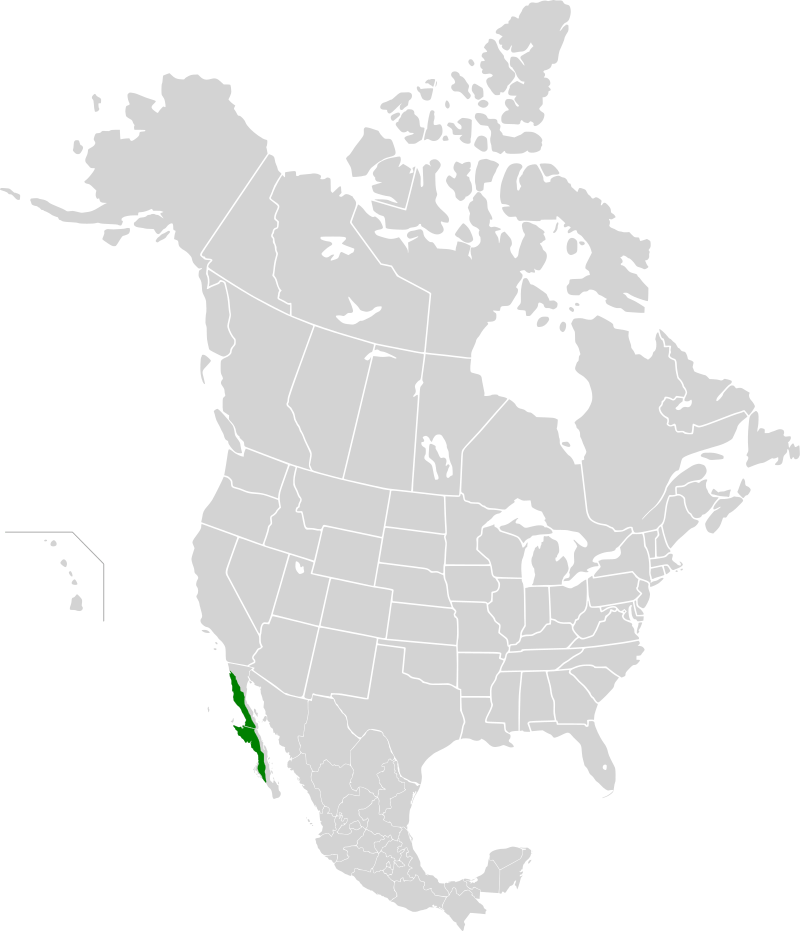 Map depicting the approximate area of the Baja California Desert ecoregion on the Baja California Peninsula (in green)