El Salvador: Natural and Geographic Landscape
El Salvador is located in northern Central America, where it is both the smallest country and the most densely populated. Its geographic landscape features two parallel mountain ranges that cross the country with a central plateau between them and a narrow coastal plain hugging the Pacific Ocean.
Geography of El Salvador
El Salvador is located in northern Central America where it shares borders with Honduras in the northeast and Guatemala in the northwest.
With approximately 307 km (191 m) km) of coastline along the Pacific Ocean and the Gulf of Fonseca in the south, El Salvador is the only country in Central America that does not have a coastline on the Caribbean Sea.
El Salvador's total land area is 21,041 sq km (8,124 sq mi), stretching 270 km (168 mi) from west-northwest to east-southeast and 142 km (88 mi) from north to south. It is the smallest country in Central America as well as the most densely populated.
Along with much of Central America, the country rests on the relatively motionless Caribbean Plate. The subduction of the Cocos Plate, to the west, under the Caribbean Plate to the east, accounts for a high frequency of earthquakes as well as volcanic eruptions.
Virtually all of El Salvador's territory is situated along the Central American Volcanic Arc, where it hosts approximately twenty volcanoes. However, only Izalco, Santa Ana, and San Miguel have been recently active.
El Salvador's climate is tropical and temperatures vary primarily with elevation, exhibiting only slight seasonal change. However, the wet and dry seasons are distinct.
The nation's main road is the Pan-American Highway, CA-1, or Carretera Panamericana. The highway links El Salvador with Guatemala in the western part of the country and with Honduras in the east.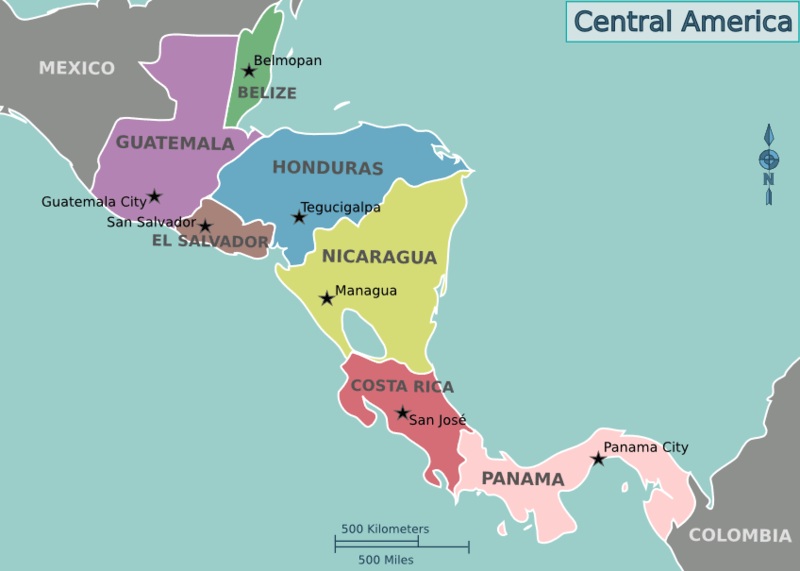 Location map of the countries of Central America
The Natural and Geographic Landscape of El Salvador
Two parallel mountain ranges cross El Salvador from the west with a central plateau between them and a narrow coastal plain hugging the Pacific Ocean. These features allow the country to be divided into three geographic regions:
the northern lowlands

a central plateau surrounded by volcanoes

a narrow Pacific coastal belt
Northern Lowlands
The northern range of mountains, the Sierra Madre, form a continuous chain along the border with Honduras. To their south and parallel to them, a broad interior plain is situated at elevations between 400 - 600 m (1,300 - 2,000 ft).
This interior plain was once forested but has now become semi-barren from erosion due to overexploitation. Today, this interior plain is the country's most sparsely populated zone.
Central Highlands
El Salvador is dominated by the central highlands which consists of a largely west-east discontinuous chain of volcanoes crossing the country, some of which are still active, and are clustered into five groups.
This volcanic range includes 20 cones, from the westernmost group near the Guatemalan border which contains Izalco and Santa Ana, through those of San Salvador and San Miguel, to that of Conchagua in the extreme east.
These volcanoes are separated by a series of alluvial basins and rolling hills, commonly referred to as El Salvador's central plain. Lying at elevations of between 1,000 - 1,500 m (3,500 - 5,000 ft), these fertile soils have supported the cultivation of crops for centuries.
Coastal Belt
To the south, where the central highlands give way to the Pacific coast, is a narrow coastal plain with average elevations of between 30 - 150 m (100 - 500 ft).
This region has a width that ranges from 1 - 32 km (.5 - 20 mi), with the widest section in the east, adjacent to the Gulf of Fonseca.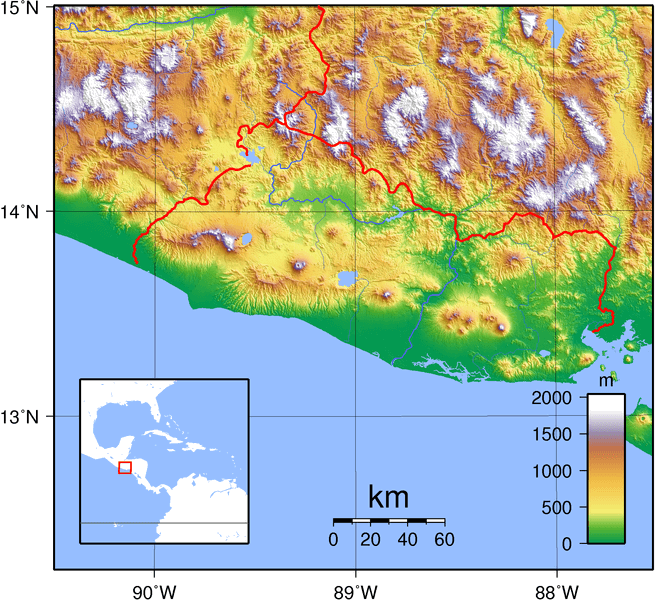 Topographic map of El Salvador
Bodies of Water
Notable Rivers
El Salvador has more than 300 rivers. The largest, the Lempa River (Río Lempa), flows approximately 240 km (150 mi) from northern to central El Salvador, providing hydroelectric power to much of the country.
Lempa River

Río Grande de San Miguel

Torola River

Goascorán River

Paz River

Goascorán River

Cara Sucia River

Copinula River

Sensunapan River

Banderas River

Pululuya River

Comalapa River

Jiboa River

Jalponga River

El Guayabo River

El Potrero River

El Molino River

Sirama River
Notable Lakes
The eastern part of El Salvador is drained by the Rio Grande de San Miguel system. Flooded volcanic craters constitute the country's largest bodies of water: Lakes Coatepeque, Ilopango, and Olomega. Numerous lakes of volcanic origin are found throughout the interior highlands.
Lake Coatepeque

Lake Ilopango

Lake Suchitlan

Lake Coatepeque

Lake Alegria

Lake Olomega

Lake Guija

Lake Suchitlán (Cerrón Grande Reservoir)
Natural Regions
The country boasts abundant flora and fauna, some of which have been classified as either threatened or vulnerable.
It is estimated that there are 495 species of birds, 30 species of amphibians, 588 species of fish, 156 species of mammals, 135 species of reptiles, and 2,911 species of vascular plants in El Salvador.
Four of the world's eight species of sea turtles nest on the coast of El Salvador, including the hawksbill which is critically endangered.
Ecological Regions
The following is a list of ecoregions in El Salvador, as defined by the World Wide Fund for Nature (WWF).
El Salvador is in the Neotropical realm. Ecoregions are classified by biome type - the major global plant communities determined by rainfall and climate.
Tropical and subtropical moist broadleaf forests
Central American montane forests
Tropical and subtropical coniferous broadleaf forests
Central American pine-oak forests
Tropical and subtropical coniferous dry forests
Central American dry forests
Mangroves
Gulf of Fonseca mangroves

Northern Dry Pacific Coast mangroves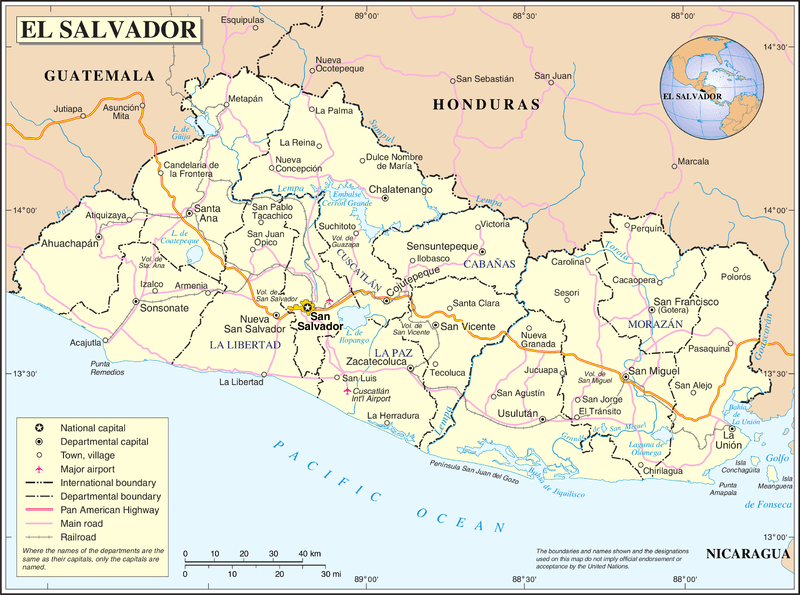 Map of El Salvador
Political Divisions
El Salvador has 14 departments:
Ahuachapan

Cabanas

Chalatenango

Cuscatlan

La Libertad

La Paz

La Union

Morazan

San Miguel

San Salvador

San Vicente

Santa Ana

Sonsonate

Usulutan
Map depicting the administrative departments of El Salvador and their capitals