Patagonia National Park (Chile)
Located in the transition zone between the arid steppe of Argentine Patagonia and the temperate southern beech forests of Chilean Patagonia, Patagonia National Park encompasses an array of ecosystems including grassland, riparian forest and wetland.
Patagonia National Park
Patagonia National Park (Parque Nacional Patagonia), located in the Aysén Region of Chile, was officially created by decree on December 11, 2018, consisting of a total area of ​​304,527 ha (752,500 acres). The park is open year-round.
This is Patagonian steppe in all its splendor: mountain ranges, Lenga and Ñirre forests that burst with red in fall, active wildlife and dozens of spectacular lagoons and lakes.
Set within the Patagonian Andes, vast valleys sculpted by the Chacabuco River, form a natural corridor that (since ancient times) has been used for travel both by nomadic peoples and a large diversity of fauna.
The heart of Patagonia National Park is the Chacabuco Valley, a biologically important east-west valley that forms a pass over the Andes Mountains and is a transition zone between the Patagonian steppe grasslands of Argentinian Patagonia in the east and the southern beech forests of Chilean Patagonia to the west.
History
Most of the territory that currently forms Patagonia National Park integrates the former Lago Jeinimeni National Reserve, Lago Cochrane National Reserve as well as the former Patagonia Park.
Patagonia Park had been created by Conservación Patagónica, a nonprofit incorporated in California and founded in 2000 by Kris Tompkins, to protect Patagonia's wildlands and ecosystems. The area was donated to the country of Chile by the Tompkins Conservation Foundation.
Patagonia National Park is part of Chile's scenic 2,800-km (1,700-mi) "Route of Parks of Patagonia" that stretches from Puerto Montt in the north to Cape Horn in the south. Spanning 17 national parks, the Route of Parks encompasses one-third of Chile and protects over 11.8 million hectares (28 million acres).
Patagonia National Park stems from an agreement signed between the Chilean government and Tompkins Conservation in March 2017. It establishes the creation of five new national parks:
and the extension of three others: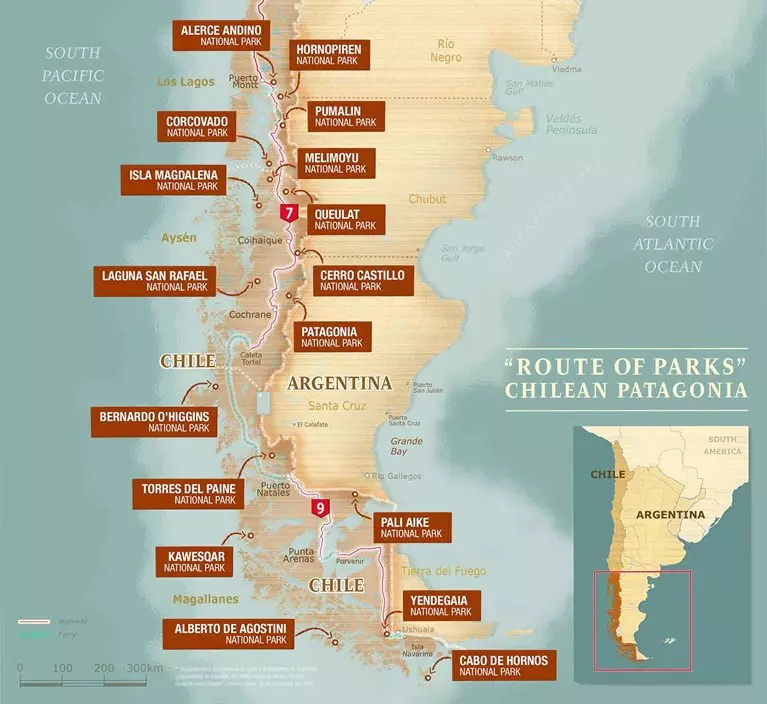 Chile's Route of Parks map - Thompson Conservation
Once the site of big cattle ranches, today the grasslands have begun to recover after a century of overgrazing and are now home to one of the highest levels of biodiversity in the Aysén Region.
As of April 30, 2019, Patagonia National Park is managed entirely by the National Forest Corporation (CONAF). CONAF is a Chilean private, non-profit organization through which the Chilean state contributes to the development and sustainable management of the country's forest resources. CONAF is overseen and funded by the Ministry of Agriculture of Chile.
Ecology
Located in the transition zone between the arid steppe of Argentine Patagonia and the temperate southern beech forests of Chilean Patagonia, Patagonia National Park encompasses an array of ecosystems including grassland, riparian forest and wetland.
The dry steppe grasslands of Argentine Patagonia are characterized by minimal rainfall, cold dry winds and sandy soil. The Andes Mountains block moisture from flowing west, creating this arid area region. A number of plants have been able to adapt to this harsh environment, including shrubs like calafate, quilembay and yaoyín as well as tuft grasses like flechilla and coirón poa.
Dry, spiky Coirón dominates the grasslands while the Lenga and Ñirre forests showcase their bright red leaves in fall. In springtime, the Neneos flower turns the parklands a pleasant orange. Endemic species include Chauras, Calafates (Magellan Barberry), Notros, Zarzaparrillas and various endemic orchids, such as the Porcelain Orchid. Many other species of flora can also be found in the park.
These grasslands support hardy animals such as the burrowing owl, the gray fox, tuco-tuco, mara, armadillos, various eagle and hawk species as well as& keystone predators like the puma.
A wide range of animals thrives in the more habitable outskirts of the desert and around ephemeral lakes formed from the Andes' runoff, where trees and more nutritious aqueous grasses can grow.
Moving west and climbing the vertical gradient of the Andes Mountains, the park's flora and fauna change notably. The landscape begins to transform into forests, which consist mainly of three species of the southern beech (Nothofagus) genus: lenga, ñire and coiue.
Here, rainfall can be very high, generating dense forests, full of nutrients from high leaf litter. These forests host 370 vascular plant genera which are vital to the survival of the surrounding fauna.
The forests of Patagonia National Park contain a high diversity of bird species including the Andean condor, Magellanic woodpecker, Spectacled Duck, Black-necked swan, pygmy owl, Black-faced Ibis, Chilean flamingo, Austral negrito, Southern lapwing and a range of amphibians and reptiles. The park's birds also include Pitíos (Chilean Flickers), Carpinterito Woodpeckers and Loicas (Long-Tailed Meadowlarks).
Throughout Patagonia, the guanaco (Lama guanicoe), a large camelid that is a wild relative of the llama, is the most abundant herbivore. It feeds on 75% of all plant species in the Patagonian steppe. The guanaco acts as a keystone species: it prevents domination of grass species, acts as a disperser and fertilizer, and has high reproductive rates, providing food for local carnivores, especially pumas.
Ten percent of the remaining population of Huemules (South Andean Deer) in Chile live in the park, alongside pumas, Southern Viscacha, Ñandús, armadillos and foxes.
Although the park lies on the eastern side of the Andes, its glacier-fed streams and rivers run toward the Pacific Ocean. Their turquoise blue water is home to substantial populations of native fish such as Perch (Percichthys trucha), pejerrey Patagonia (Patagonina hatcheri) and puyen. Atlantic salmon as well as brook, brown, and rainbow trout, have been introduced to the area.
Culture
The Aonikenks, or Tehuelche people, were nomads who traveled Patagonia on foot. They were expert hunters and used spears and bows and arrows to hunt Guanacos and ostriches.
There are more than 100 archaeological sites in the Chacabuco Valley, including one that shows traces of human activity dating back 7,700 years, near the Baker entrance to the park. In Jeinimeni, there are also caves with paintings and other signs of early human occupation.