Mount Pelée: Town of Saint-Pierre (Martinique)
Mount Pelée is an active volcano located in the northern part of the island of Martinique in the Lesser Antilles. The volcano was the source of one of the deadliest eruptions in recorded history which destroyed the town of Saint-Pierre in 1902, once the most important city on the island.
Mount Pelée
Mount Pelée is an active volcano located in the northwest part of Martinique, an island and French overseas department in the Lesser Antilles. Situated 24 km (15 mi) northwest of the capital city of Fort-de-France, the stratovolcano reaches an elevation of 1,397 m (4,583 ft).
The Pelée volcano is the typical result of a subduction zone. This subduction formed the Lesser Antilles Volcanic Arc, a curved chain of volcanoes located where the Caribbean Plate meets the South American Plate.
Minor eruptions occurred on Mount Pelée in 1792 and 1851, but on May 8, 1902, it violently destroyed the port town of Saint-Pierre, killing approximately 28,000 - 30,000 people in the space of a few minutes, 15 percent of the island's population. It was the worst volcanic disaster of the 20th century.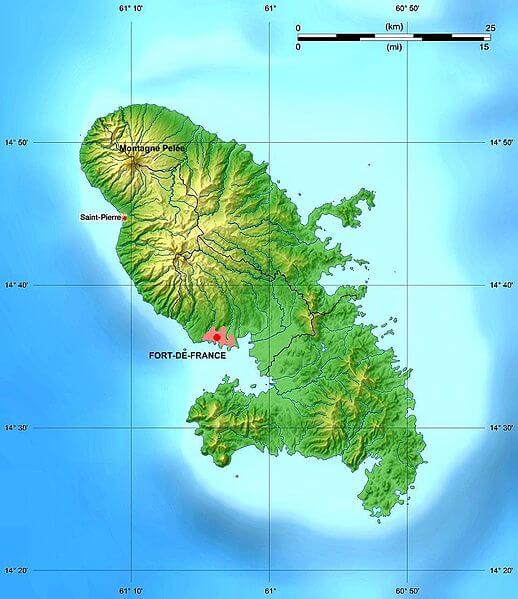 Martinique relief location map
Saint-Pierre
Saint-Pierre is a town and commune, located in the northwest part of the island of Martinique. Martinique is an overseas territorial collectivity of France, located within the Lesser Antilles in the eastern Caribbean Sea.
The town was founded in 1635 by Pierre Belain d'Esnambuc, a French trader and colonizer, as the first permanent French colony on the island.
Saint-Pierre eventually became the most important city of Martinique, both culturally and economically, becoming known as "the Paris of the Caribbean." While Fort-de-France was the official administrative capital of Martinique, Saint-Pierre was the cultural capital.
The Great Hurricane of 1780 produced a storm surge of 8 m (25 ft) which inundated the city, destroying all houses and killing 9,000 people.
The town was again destroyed in 1902 when Mount Pelée erupted, killing an estimated 28,000 to 30,000 people. It was one of the deadliest volcanic eruptions in recorded history.
Saint-Pierre was never restored to its former status. Shortly thereafter the capital shifted to Fort-de-France, where it remains today.